Wanderers partner with Clinton Wilkins Mortgage Team
Clinton Wilkins is a name you hear often, and a face that you see all the time around HRM.
Whether on bus shelters, billboards, or TV, Clinton is the most visible mortgage broker in town.
The club is proud to bring the Clinton Wilkins Mortgage Team into the mix as a partner for the Island Games with a view to an extended partnership next season as we get back to the Wanderers Grounds. 
"The Wanderers are an organization that I have seen build up tremendous buzz in the city and will align well with our brand. As the Clinton Wilkins Mortgage Team continues to grow, I look for innovative ways to reach new markets and working with a football club is certainly a new avenue for me," Wilkins explained. "The work they do in the community to build an inclusive environment is important to me. I am looking forward to connecting with and doing business with Wanderers fans in HRM and beyond."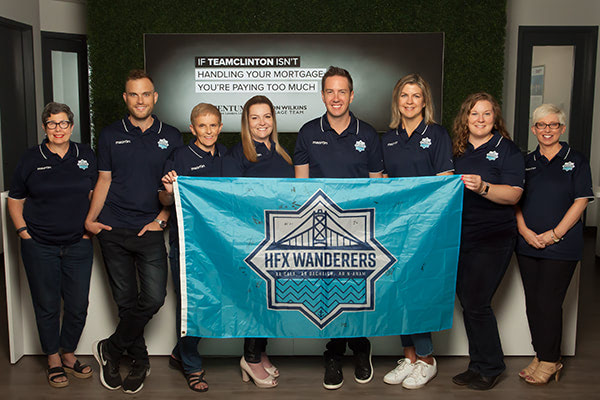 David Finlayson, Director of Partnerships for the Wanderers added, "Over the last two years it became obvious that Clinton would be the ideal fit as a partner for the club. He is forward thinking, willing to take chances on new ideas and has a great strategy on how to build his business. Much like the process we went through over the last two years, he has built a very strong and recognized brand. Clinton and his team are also proving to be a valuable resource to our club with their technical and marketing gravitas."
If you aren't using Team Clinton, you are paying too much is the well-known motto, and for the Fall, we have partnered on their annual Fall Into Homeownership Giveaway!
They are offering some amazing Wanderers prizes to winners including daily ticket vouchers, 2021 Harbour Blue Season tickets, and a grand prize draw that includes accommodations, a fancy dinner, and some Wanderers swag to help them cheer on the local team!
Find out more details about the contest on their website here and you can reach out to Clinton and his team at 902-482-2770, or by getting in touch with them here.