HFX Wanderers FC Training Camp 2021 Update
---
The Halifax Wanderers are back!  
A total of 28 players have joined the squad for pre-season, which began on March 22nd in Halifax. The club's 18 signed players are joined by its two CPL-U SPORTS Draft picks (attacker Stefan Karajovanovic of Carleton University and defender Kareem Sow from University of Montreal), Cape Breton University Capers defender and trialist Jamie Watson, and seven local youth prospects on trial; Anthony Phelps, Brandon Phelps, Kaveh Wornell, Sulley Elomrani, Domenic Lacroce, Scott Firth and Luke Green.
CPL-U SPORTS Draft selections Sow and Karajovanovic automatically earn training camp invites while Cape Breton University defender Watson – a former professional with Scottish club Raith Rovers – joins camp with a similar opportunity to earn a CPL-U SPORTS development contract and a spot on the 2021 Wanderers roster.
The seven trialists, meanwhile, are players the club is monitoring for its under-23 program and are invited for a chance to earn a first-team contract of their own.
"We're delighted to have the players and coaching staff back together on the pitch," Wanderers VP of Football Operations Matt Fegan said. "The pandemic has introduced new challenges but we've worked diligently to abide by the provincial and federal requirements, with player and public safety always top of mind, to ensure everyone arriving from outside the region completed their mandated quarantines and completed negative COVID tests before joining the group on the pitch. Now we get to focus on the hard work getting ready for our season."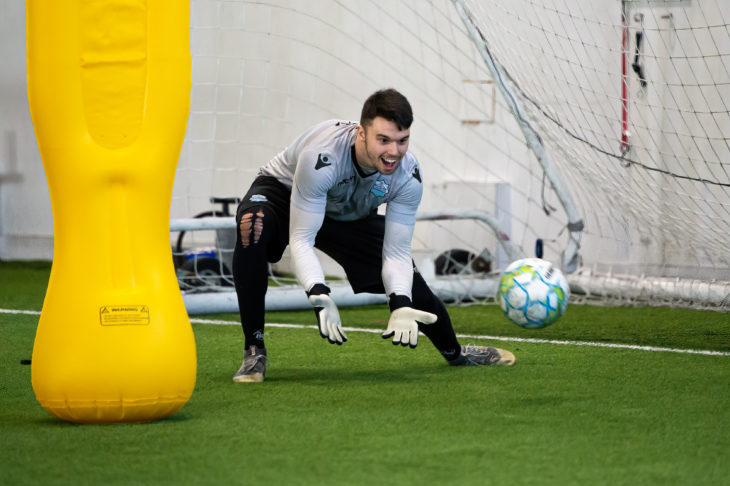 Of the 18 signed players, 13 are returning members of the 2020 squad that made the CPL Final; Christian Oxner, Mateo Restrepo, Jems Geffrard, Jake Ruby, Peter Schaale, Eriks Santos, Omar Kreim, Andre Rampersad, Cory Bent, Alessandro Riggi, Akeem Garcia, Alex Marshall, and João Morelli. They are joined by new signings Pierre Lamothe, Jeremy Gagnon-Lapare, Samuel Salter, Kieran Baskett and Morey Doner.
Schaale, 24, is one of four Wanderers returning for a third season with the club.
"The amount of players from the team that are coming back, it shows there's trust from the coaches and from the club itself in those players," Schaale said. "It showed last year in how we presented ourselves at the Island Games so the players that have come back have earned their spot."
"We have a culture in our team where everyone is willing to learn from each other. There are leadership qualities in all of us, including the younger guys, so I think everyone understands that we can learn different things from each other no matter what our backgrounds are or where we're going with our careers; we can all learn from each other."
Andre Rampersad, 26, is also joining for his third season as the club's all-time appearance leader with 35 – two matches ahead of reigning Golden Boot winner and fellow Trinidad and Tobago international Akeem Garcia.
"Akeem is a very humble guy who works hard every day in training – always positive and always for the team on and off the pitch," Rampersad said.
Garcia is currently tied for the Canadian Premier League's all time goal scorer with 13 goals, alongside Forge FC's Tristan Borges and FC Edmonton's Easton Ongaro. Garcia gained positive momentum in the 2020 season, scoring an average of 0.6 goals per game, one of them assisted by Trinidadian teammate, Andre Rampersad.
"Especially for us coming out of Trinidad, the Canadian Premier League has been really good for us and we've made the most of it. We work hard, we know what we're good at and we look to be the best we can."
Summer is approaching and soon enough the Wanderers will be back in Canadian Premier League action. Until then, have a look back at Garcia's goal from his 2020 Island Games campaign.
---
2021 Season Ticket Memberships are now available online. Members will receive additional benefits in 2021 including 50% off a jersey for every season seat purchased, 20% off the Wanderers Fan Shop and more!